Tesoro Cibola Metal Detector
Tesoro Cibola Metal Detector
Price: $361.25
The Tesoro Cibola is an excellent device for the money and will serve the serious and amateur treasure hunter well. I can't really speak to the quality of this product. It was purchased as a xmas gift and time will tell.
Visit Website
The Tesoro Cibola metal detector is designed for the treasure hunter that does not want to bother with too many controls. It is named after one of the fabled seven cities of gold that the conquistadors were searching after and will simplify the search for any treasures to be found.
The Tesoro Cibola main search mode is an ED 180 Silent Search discriminate. A threshold-based All Metal is accessed by the Push Button Pinpoint mode. The ease of use for the Tesoro Cibola makes it the perfect metal detector for both the metal detecting novice as well as the treasure hunter that has been around for a while.
Tesoro Cibola Features
Lifetime Warranty – Made in USA
Silent Search discriminate
Push Button Pinpoint mode
3-Piece Knockdown Pole
One Drop-in 9V Battery
Tesoro Cibola Field Test
The Tesoro Cibola is an excellent device for the money and will serve the serious and amateur treasure hunter well.
Fortunately we were having a mild winter in the Southeast and the weather was ideal for a field-test 60 degrees and damp ground! As with any detector I test, the first thing I did was a quick bench test to get an idea as to where specific targets were rejected as discrimination was increased and then took the Tesoro Cibola through my test garden to see how it responded to known targets. Even small targets such as a Civil War era percussion cap at 4 inches produced a solid signal (which some high-end detectors have not been able to see) so I was hoping for a productive field test.
The first site I went to was a local park where I'd found some wheat cents and silver dating back to the 40′s and was still actively used, so targets would be fairly plentiful despite being hunted regularly by local detectorists.
Since ground balance is not adjustable on the Tesoro Cibola, I opted to check the ground conditions before starting. Holding the coil waist-high, I depressed the 'pinpoint' button, adjusted the 'threshold' knob to where a hum could be heard and lowered the coil to the ground. There was almost no change to the threshold indicating that the preset point was very close to the optimal setting for this area.
As will be covered later in the report, doing this type of test as you visit different sites is extremely simple and is recommended. Sites that contain highly mineralized ground where the threshold goes silent as the coil approaches the ground may result in reduced performance, and being aware of this ahead of time will allow you to adjust your hunt style or select a different location.
Starting near the edge of a large lake in the park, I set the DISC just below 5c and the 'sensitivity' at 10. Unlike most detectors with preset ground balance, the Tesoro Cibola ran virtually silent producing signals only when something was detected with no raneous chirping or popping. Clad coins were plentiful and produced clear signals that were impossible to miss.
A trick that I have used for years on many Tesoro detectors without target ID meters is to slowly increase the 'discrimination' control with my thumb (the knob is ideally situated for that) and see where the signal starts to break up or disappear. Based on the testing I did before I headed out, I found that I could identify targets with a high degree of accuracy without a meter or change in audio tone. Signals in the PINPOINT mode varied in strength based on the depth of the target, which allowed me to gather more information about the object before recovering it. A softer signal on the bank of the lake produced a 1944 Wheat cent from 7 and two more wheat cents from similar depths followed soon after.
Tightening up my search pattern, I received a solid signal that remained even after turning the DISC knob fully clockwise (maximum). Switching to pinpoint indicated that it was another deep target, so with high hopes I centered the coil over the target and cut a deep plug.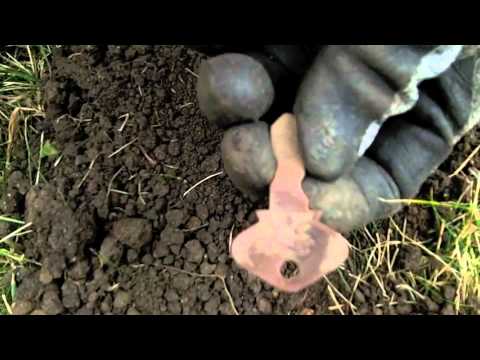 As I removed the plug, I saw a Mercury dime at a 45-degree angle at the bottom of the hole and it quickly went into my film canister filled with cotton balls to keep it from getting scratched before I got home. Unfortunately that was my only piece of silver at the park but I did pick up more than 50 others coins along with several keys and other items during my trials.
On the way to try hunting a foundation site that I had been to previously (that dated back to the early 1800′s), I stopped off at an older house in town that I had received permission to hunt last summer when the ground had been too dry to hunt. Knocking at the door, the owner said hello and gave me free run of the yard. The ground here consisted of dark, loamy soil and I knew that older coins would be deep.
A trick that Tesoro users have found to be effective in going after those deep keepers is one called Super Tuning. By turning the 'threshold' knob clockwise well past the point you would set it at to obtain a slight hum in the pinpoint mode, both detection depth and sensitivity will be increased. The downside of this technique is that the pinpoint mode is rendered virtually unusable since you will only hear a loud threshold signal when depressing the push button; however, if you need that extra "umph" to reach targets that might otherwise have been just out of range, Super Tuning is a proven way to reach them.
While the house looked ideal for a pouch full of goodies, targets were few and far between. I did pick up a nice 1902 Barber dime at 9″ along with 2 Indian Heads, a few wheat cents and some clad coins. Finally deciding to head over to the foundation I had started out for, I said goodbye to the homeowner and showed him my finds. Unfortunately he told me after I was done that he & his wife had never had kids, which explained why there were so few targets in the yard (he had lived there for more than 40 years).
The foundation I went to have previously turned up some coins and relics from the late 1700′s thru early 1800′s, so I was hoping the Tesoro Cibola could turn up a few that may have been overlooked. Square nails littered the area surrounding the cellar hole; however, I had heard that both the Tesoro Cibola and Vaquero did an excellent job detecting good targets from amongst iron which demonstrating what few detectors were able to do; i.e., see through the iron to pick out the keepers.
Setting the 'discrimination' control to the iron position,' sensitivity' to "9″ and using a slower sweep speed, I started hunting a tight pattern near the cellar. The iron was readily identifiable by the sharp pops and broken signals which saved time chasing after rusted iron that often sounded like a good target on many other detectors. It took awhile for the first good signal to be detected, and I used the "manual target ID" technique described above to get an idea as to what the target's composition might be.
It broke up just above the TAB mark and turned out to be a lead round ball from a Colonial-era musket. Two hours of methodical hunting netted me two more musket balls, three plain flat buttons and a coin that was too corroded to identify (about the size of a large cent). Virtually no iron had been recovered and the "keepers" were easily discernible from the trash that littered the site.
Just before I finished this test, I lent the Tesoro Cibola to fellow club member and long-time Tesoro user, Chuck Smith for another opinion on its performance. I asked him to take it to a site or two that he had hunted in the past and compare theTesoro Cibola to what he experienced with his other machines. He spent some time at a nearby country church, which had been hunted dozens of times over the years.
In just over an hour, he found several clad coins along with three wheat cents and a silver dime. His comment to me that evening was that "the Cibola offered surprising performance for what seemed like a basic turn-on-and-go" detector."
In today's detector market, where some models cost more than what a used car sells for, Tesoro has held the reigns on pricing and provided another detector offering high performance with an affordable price tag. Under most conditions, the Tesoro Cibola will provide users with stable, deep-seeking performance capable of detecting even small targets at impressive depths.
In highly mineralized ground the Tesoro Cibola will tend to loose some sensitivity being a preset ground balance detector, so if you find yourself searching extremely hot ground on a regular basis, the Vaquero with its manual ground balance may provide deeper detection capabilities and smoother overall operation.
Even with that said, the Tesoro Cibola is well suited for wide range of applications and its ease-of-use makes it ideal for newcomers to the hobby, detectorists that would rather hunt than adjust, or as a backup detector to your current unit.