The Fisher F75 Metal Detector
Fisher F75 Metal Detector
Price: $949.00
The Fisher F75 Metal Detector is the latest top of the line metal detector from the oldest name in treasure hunting. Fisher Labs, the latest technology from the oldest name in the industry. Multi-purpose metal detector for relic hunting, coin-shooting, and gold prospecting.
Visit Website
The Fisher F75 Metal Detector is the latest top of the line metal detector from the oldest name in treasure hunting.
Fisher Labs, the latest technology from the oldest name in the industry. Multi-purpose metal detector for relic hunting, coin-shooting, and gold prospecting.
The Fisher F75 has a Large LCD screen with target ID display with menu always visible. Single transmission technology. Multi-mode FASTGRAB . Instant or manual ground cancellation works in all modes.
Trigger actuated target pinpointing. Ergonomic lightweight, balanced and intuitive interface. 11″ bi-axial coil. 2 way adjustable armrest for perfect fit.
Fisher F75 Features
Large LCD screen with target identification display
Double-filter discrimination modes for searching in trashy areas
ground cancellation trigger-actuated FASTGRAB
Magnetic mineralization bar graph read out
Trigger-actuated target pinpointing with varible audio pitch
Double-D Waterproof Search Coil – Rain Cover for Control Housing & Battery Housing Available
Double-filter discrimination modes for searching in trashy areas – magnetic mineralization bar graph and readout – trigger-actuated fastgrab ground balance
Lightest weight / best ergonomics in the industry – powerful performance trigger-actuated target pinpointing with variable audio pitch – large lcd screen with 0-99 numeric target identification display
Non-volatile memory saves settings – backlight for low light hunting conditions – low operating cost typically 40+ hours with 4-aa alkaline batteries
Fisher F75 is recommended for: coin shooting, relic hunting, beach hunting, gold prospecting
Fisher F75 Field Test
I first went over the test bed using the default program (dE) with a discrimination setting of four. I found I could run the sensitivity at '80', which made the Fisher F75 very sensitive while keeping it stable. The detector hit every target giving strong audio responses to the target in the first 6". Deeper target at 10" gave faint soft whisper responses. Keeping the settings the same, I changed just the process (program) in turn noting the changes to performance. jE (Jewellery) gave similar responses, although I felt the iron chatter was shorter and easier to identify.
There was a subtle improvement on the deepest targets, giving them more substance. The next program I chose was PF (ploughed field), which improved the responses further and decreased the chatter slightly. PF was probably the best sounding program for easy identification of all good targets (for my hearing). I then switched on the Fisher F75 bP (Boost Process) and the target responses – even the deepest – started squealing, making them standout even better from the low-toned iron.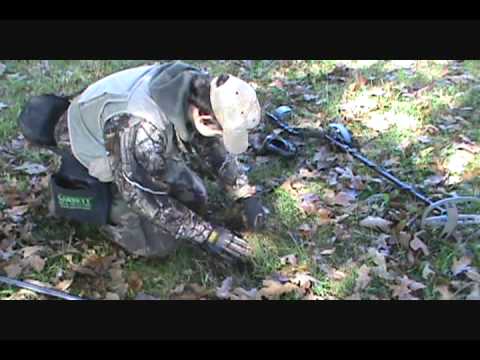 I did have to slow down my sweep speed over any target sitting close to iron. In this program a few iron targets started giving me one-way positive responses. However with a bit of tweaking of the sensitivity, this program was the best for deep targets in the clearer areas of my test patch. As the 'Boost' name suggests, the target responses are boosted making deep and shallow signals sound alike.
The last program I'll cover is the CL (Cache Locating) process, which gave the strongest responses to all targets. It did struggle to separate some of the targets from iron, but with a slow sweep and a 'wiggle' over the iffy targets, it would eventually lock on giving strong positive responses. This program is unbelievably powerful, and if used on relatively low mineralised sites, with low iron contamination, depths achievable should be awesome.
I set up the new detector in my favourite old Fisher F75 settings; default (dF) process, two tones (2F), discrimination 4, sensitivity 80 and I was soon pulling out the usual deep musket balls, shotties and dandy buttons this field always seems to produce. I was soon wandering the field in autopilot, enjoying the sunny spring weather (Figure 4). It was while digging another deep signal, still daydreaming when I suddenly found myself staring down at something gold glinting through the soft sticky mud. Wiping it gently on the towel hanging from my waist, I could see I had found a beautiful Celtic gold stater.
This was totally out of the blue, and unexpected. I can't remember getting the signal, what it was like or what made me dig it…but I'm glad that I did! (Figure 5) With extra vigour I started gridding the area, hoping to find another. About six feet from the stater I got another good signal. With my heart still racing I dug down deep, and out popped a familiar grey disc in the first spade of dirt, it was a rather nibbled hammered Edward penny. Two good finds in two signals, it doesn't get much better than this (Figure 6).
The next site I tried was a building site, where the topsoil had been stripped along the side of a stream. This stripping had exposed the buried dredgings – and I knew that this waterway navigated in the Roman period. On previous searches on other sections of stripped soil, Roman coins had been found. I was hopeful that coins where possible from this iron contaminated material. caps are usually deeper than 8".
I fitted the Fisher F75 SEF coil and selected the bP boost program. The SEF seemed to be slightly noisier than the waffle coil, so I reduced the sensitivity to 70. I then proceeded to dig shotty ends…one after another after another. After two hours I had 30 of the damn things, and although I could've notched them out, I wanted to see at what depths the new detector would go down to…over 10".
The first Fisher F75 was a great detector, proving to be one of the deepest single frequency detectors available. The new Fisher F75 Special Edition is even better, going deeper with more sensitivity. The extra two processes (bp and CL) are really powerful, and I'm sure I've only scratched the surface of their capabilities. In my original test I struggled to find anything negative I didn't like, settling on its annoying habit of falling to the side when laid down on the ground. I can report that the new model is still just as annoying!
This only really happens using the waffle coil, because of its round-bottomed construction, the Fisher F75 SEF makes it more stable. So that's my only gripe (as petty as it may seem) and this new detector is otherwise fantastic. It has also proved to be a very lucky detector for me, finding enough during testing to warrant me buying one…something that doesn't happen too often!